LinkExchange Member
The First and Only Site on the Internet Dedicated Entirely to The Postal Jeep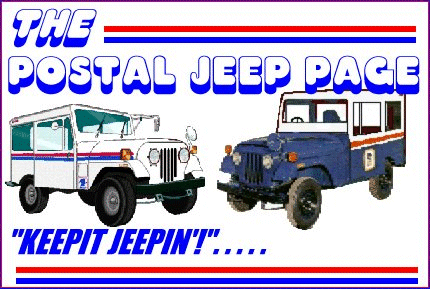 WE'VE MOVED!GO HERE!
Devoted to the DJ-5 series. Let's "Keepit Jeepin'!"
This page was inspired by the recent acquisition of a new "toy". I have fallen completely in love with this little machine called the "Postal Jeep". I know it may sound silly for a grown man to go on and on about a governmental discard, but you just have to drive one once to fully understand my affliction. My wife "likes" it, my oldest son thinks it's "cool", my oldest daughter hasn't seen it yet, my youngest son is warming up to it, and my youngest daughter thinks it's "gross". (Secretly I think they all love it.) I'm not sure what appeals to me the most. Maybe the right hand drive, maybe the solid and sturdy build, maybe just owning a piece of "Americana". Whatever it is inspired me to search the internet where I found other "victims" of my affliction. I have included some links to similar pages and information about this little vehicle. Here are some pictures of my "toy" . I sincerely hope that this page will be as much fun to visit as it is to create. If you have any information, links, stories,etc., please e-mail me. I would love to hear from you.
thepostaljeep@bigfoot.com
---
A little info:

The Postal/Dispatch Jeep was made in two basic models, the DJ-3A (pictured below) and the DJ-5. The DJ-3A was a flat fender Jeep similar to the CJ-3A except it was two wheel drive. It was produced from 1956 until 1965. The DJ-5 was introduced in 1965 which is the postal Jeep most people are familiar with today. They also produced a long version from 1965 until 1968, the DJ-6. The DJ-5 was made by Jeep into the early 70s and production continued under AM General.

DJ-3A Dispatch/Delivery Jeep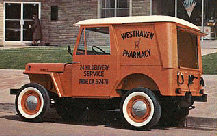 Photo from CJ3B Page.
---
A CJ3B for delivering the mail -- what an excellent concept! This may have been a step in the process of creating the DJ3A, the first two-wheel drive version of the Jeep, and the first postal Jeep.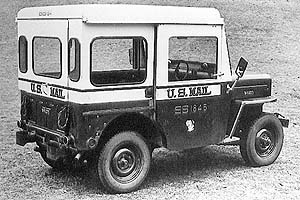 Photo from The CJ3B Page. Click here for more info.
"A history of the Universal Jeep" in poster form.(by Four Wheeler Magazine on The CJ3B Page)
---
The DJ-5's entrance into the P.O.'s fleet.
---
The electric Jeep...

In 1976 Postal Jeeps remained relatively reliable and simple to repair and maintain for the DJ-5E "Electruck" version. The weight was nearly twice that of a gasoline powered jeep, thanks to the hefty batteries.
---
Postal Jeep year models and respective engines-(incomplete)
DJ-3A (1955-64): Four cylinder L-head, three speed manual
DJ-5 (1965-67): Four cylinder L-head, three speed manual
DJ-5A (1968-70): Chevy four cylinder, Powerglide automatic
DJ-5B (1970-72): AMC 232 I-6, B-W T-35 three speed automatic
DJ-5C (1973-74): AMC 232 I-6, T-35 or M-11 automatic
DJ-5D (1975-76): AMC 232 I-6, 727 TorqueFlite automatic
DJ-5F (1977-78): AMC 232 I-6, or 258 I-6, TorqueFlite automatic
DJ-5G (1979): Audi 121 four cylinder, 904 TorqueFlite automatic
DJ-5L (1982): Chevy or Buick 151 four cylinder, Chrysler 904 transmission
CJ-8 (1984): Used in Alaska only 258 I-6, Chrysler 999 transmission
(Thanks to Frank in So. Cal. for the back issues of Four Wheeler Magazine, the source of this info.)
---
It's online now!!! Faster server!!!Try it out!!!Change your bookmarks!!!
---

The Gallery is where I'll be displaying pictures that are sent in by visitors to The Postal Jeep Page. Do you have one you want to see here?
---
Sad but true: Jeep Leaving USPS
According to reports, the postal Jeep is going the way of the drive-in...being replaced by a newer version. For almost 30 years Postal workers have delivered our mail through "rain, sleet and snow" with the aid of their trusty Jeep. Now, the Postal Service is scheduled to take delivery of 9,000 Ford Windstars, to replace a roughly equal number of Jeeps.
The new vans, unlike the old Jeeps, will have air bags and regulation seat belts, and they will sport a large cargo area needed to haul today's heavy mail load.
The vans cost $17,000 each.
Editor's note: Imagine the Postal Jeep that could be built for $17,000.00

---
Updated-06/08/98

---

Holiday festivities at The Postal Jeep Page
---
Don't believe 'em...
when they say you look like a nerd in your postal Jeep. They're just jealous. Yeah. That's it, just envy. Plain old envy. Yep, everybody wants a postal Jeep. But everybody can't have one. You look cool and you know it. What they say doesn't matter. 'Cause you know what they're really thinking. They want one. Ha! Don't forget that. Yeah, keep that in mind. They want one and just can't stand how cool you look. Yeah, that's it. Uh huh. Just plain envy.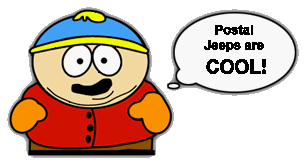 Copyright © 1997 Comedy Central. All Rights Reserved.
---
Get one for yourself...
Do you own a Postal Jeep or know someone that does? They are rapidly becoming one of the most popular little recreational vehicles available today. Why? They are certainly among the most affordable, parts are not as hard to find as one would think, and they are "fun" to drive. Admittedly they aren't the "macho 4x4 mudder type". They aren't even four wheel drive. However they do have good road clearance, and given their ancestry, they do the "rain, sleet, and snow thing" quite well. Like their military ancestors they have done a service to this country. While I wouldn't dare attempt to equate their duties with the hundreds of military Jeeps that carried our troops during war time, they have faithfully served our great country and do deserve a little respect. Letting them rust away in a salvage yard or be melted down and pounded into new Toyotas is shameful. Given new leases on life they make excellent "weekend escape machines". Trips to the park or lake are more fun. They are great for shopping and running errands around town. They turn on a dime and are super easy to park. The back door makes package loading convenient. They have a sturdy steel body. Just let someone try to "door ding" it. The Postal Jeep makes a great companion at the deer lease or fishing hole. You don't need much of an imagination to find a use for one. If you are looking for a second or third vehicle or a restoration project why not a Postal Jeep? It'd be a shame to let one go to waste.
---

---
Don't think you have a "Chicken's Chance in China" of finding a Postal Jeep?

If anyone is looking for a Postal Jeep in Los Angeles, the "official" vehicle sales line for the USPS is (213) 586-1916.(Thanks Poly)
Don't be taken in by internet shysters. If you want to buy used Federal property, such as Postal Jeeps, go straight to the source. The General Services Administration is online.
Looking for a Postal Jeep to buy or have one to sell? Have a question about parts or availability? Want to tell us about your Postal Jeep? Have any information that might be of interest to Postal Jeep enthusiasts? Post it here on The Postal Jeep Page Message Board. Check back here often for visitors responses.


NEW!AAA Motors Inc. 13795 Hwy. 168 , Boaz , Ala. 35957 Phone : 256-593-2949 Fax : 256-593-4366 (1,000 reconditioned postal jeeps in stock) new and used parts.
Also try (highly recommended for any technical info) "Parts Mike, the Answer Man's Forum".
Over 200 listings of new and used parts suppliers.
Postal Jeep Parts- Leon Rosser Jeep Parts
"Cliffie the Postal Dream Machine" and others for sale in The Postal Jeep Junction-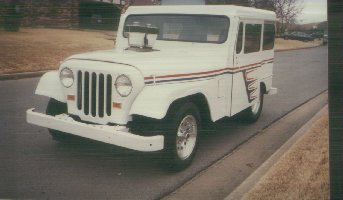 thepostaljeep@bigfoot.com
---

Do You Like This Website? Recommend-It (tm) to a Friend or Colleague!

---
Humor me and click on the Jeep.

---
---
CAN ANYONE IDENTIFY THIS JEEP?
LINKS TO POSTAL JEEPS and OTHERS
RURAL CARRIERS INFORMATION GATEWAY
Click on box to send mail.


---
Somebody sign this thing or I'm gonna put something useful here!

---

http://members.tripod.com/~gwiley/jeep.html
Link to The Postal Jeep Page with this banner.
---
A note from yours truly-
I'm in the process of compiling a database of information on the DJ series Jeeps. I'm looking for manuals, spec sheets, manufacturer's schematics, or any other printed or electronic material I can find. If you have anything you'd like to make available to me I would appreciate it. If you want the material returned I will do so at my expense. When I have a sufficient amount of data to warrant it, I'll make it available online for all of us to reference. Thanks to all of you for your support of The Postal Jeep Page.
-Gary
---




Previous
Next
Random
Site List Sites

JOIN THIS RING






 
         

         SmartClicks: Target Advertising For Free





---




 


---











Cartman cartoon figure Copyright © 1997 Comedy Central. All Rights Reserved.




All original artwork Copyright © 1998 The Postal Jeep Page/Gary Wiley owner. All rights reserved.(Just ask:)