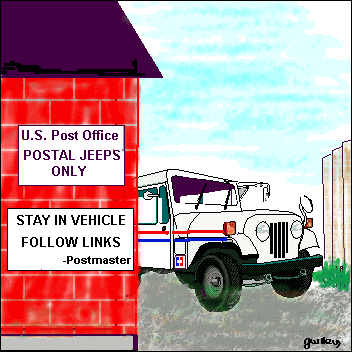 WE'VE MOVED!!! THIS PAGE IS NO LONGER UPDATED!!!
Please go there and remember to update your bookmarks.
---
1998 'INDY 500' POSTAL JEEP RACING SCHEDULE
"Are you eligible for a much coveted award?"
DA JEEP!- an amusing testimonial.
Back From The Dead Letter Office-(A restoration)
Leon Rosser- Postal Jeep Parts
The Jeep Page- (has a postal Jeep)
Top Ten Signs Your Mailman is Crazy
"Killed in the line of duty, run off the road by a rival Postal Jeep." ???
The Wheels of Postal Progress. (From Model A's to Mini-vans)
Windshield Buddy- for those frosty winter mornings.
The United States Postal Service
Click on box to send mail.

---