---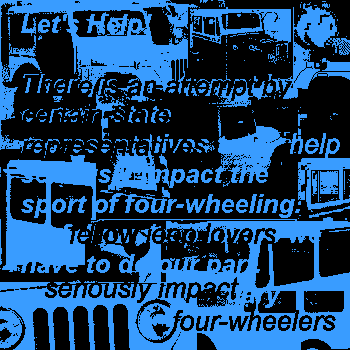 WE'VE MOVED!!! THIS PAGE IS NO LONGER UPDATED!!!
Please go there and remember to update your bookmarks.
Let's Help!
There are certain state representatives in the state of Colorado that want to ban lift kits and all tires that are not considered "stock" items. This must be stopped. You, as well as I, know that if this legislation ever sees the light of day, it will be a mere stepping stone to more encroachment on our freedoms. One "foot in the door" on this seemingly harmless issue and a can of worms will be opened that no one can contain. Most of you have probably heard of the "Sierra Club's" ongoing pursuit of legislation to raise the insurance premiums on and eventually ban Sports Utility Vehicles. This is a part of that agenda. As fellow Jeep lovers, we have a responsibility to aid the four-wheeling community. Please take a few minutes of your day and write to these representatives. Tell them how you feel about such foolish legislation. If you leave matters in the hands of these people, "nature itself" will be "off limits" to all of us. It's just a matter of time.
---
Here are the addresses to contact. I'm sorry I don't have the names.
---
BACK
---