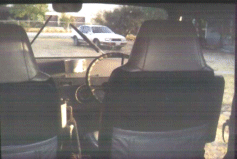 You can see the handy pockets on the back of the seat. It's a good place to keep maps and anything else you might want within reach. I painted the dash to match the seats. I also added another interior ceiling light. I found one to match the other one perfectly at a camper supply.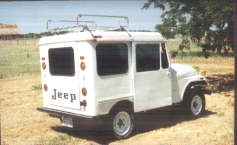 I like the tinted windows. It stays cooler inside and makes people wonder "who's in that thing?"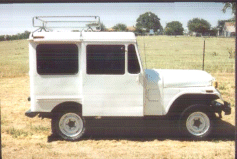 Not noticeable in any of the photos is the new stereo and speakers or any of the mechanical upgrades. I installed new Gabriel shocks. They still make shocks for DJ's! I completely went through the engine compartment with new points and plugs, plug wires, alternator, voltage regulator, belts, hoses, battery and cables. It's now probably the most dependable vehicle I own. It's certainly my favorite!
Here's another major distraction in my life. My son's four-wheeler. I can't stay off the thing. (When I'm not in my Jeep of course.) My wife says older people have no business on those things. I just tell her,"Yes dear, you better not ride." Thank God my son has an apartment in town and doesn't have a place to keep it. And guess what. He just bought a jet-ski! "DAMN!...I LOVE THAT BOY!"