My DJ-5C Postal Jeep>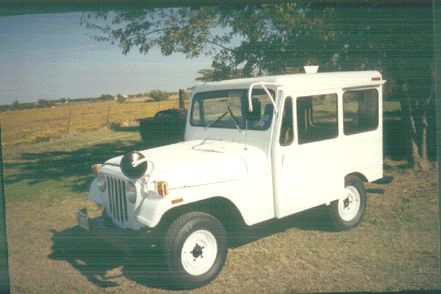 I haven't had to do too much to it. A little sanding, paint, new carpet, and a new exhaust sytem from front to rear. It had a stereo w/tape already installed. I added a good pair of AudioVox speakers. I hope to find a seat for the passenger side soon. My next step will be to repaint the interior. I really don't want to stray too far from the "Postal Jeepishness" of it. I'd like to preserve as much of that as I can. Mechanically it's in sound shape. It has a newly rebuilt 232cu.in. inline 6-cylinder A.M.C. engine.
If you look closely, you can see the 500 gallon portable smoker in the background. I'll be "beefing up" the rear bumper and adding a trailer hitch. I hope to attend a few cook-offs this summer.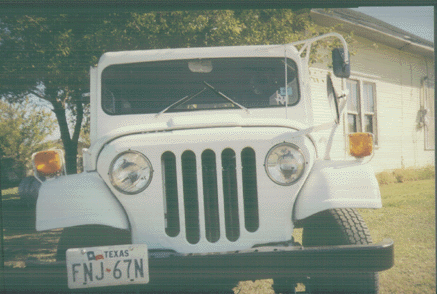 Not visible in the grille of my Jeep is a transmission cooler. In my opinion, this aftermarket addition is well worth the $20-$30 price tag.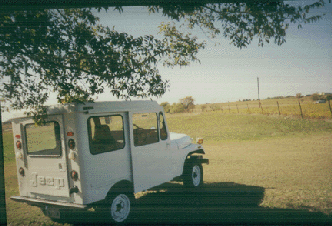 Since this photo was taken I have painted the Jeep logo on the back door.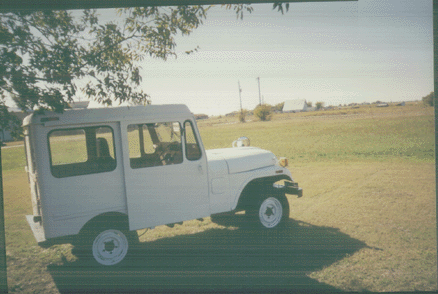 I'm considering tinting the windows and adding air conditioning. The summers here in Texas can be pretty rough on an old "softy" like me. I'm sure the 232 cu.in. 6 cylinder engine can handle the strain.
BACK TO GALLERY/UPDATED PICS
---