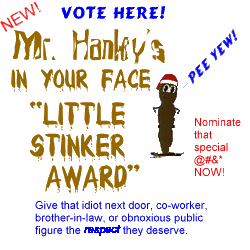 Want to let someone know how you really feel? Want the world to know? Whether you want to "get even" or generally tick someone off, Mr. Hanky can do it for you. On hiatus from South Park, Mr. Hanky has kindly consented to help provide this valuable free program for our loyal visitors. Each week a winner will be tabulated from the hundreds of nominees that should start flowing in any minute. Winners will remain posted here on a list until I get threats from a lawyer.
Nominate that special person!
Each nomination will be counted as a vote for your special person.
Contest Rules: I'll think of something.
BACK